2017-2018 Budget Highlights
Additional NYS School Aid dollars are being used to
decrease
local taxes.
2017-2018 Budget Presentations
See the overview of the Allegany-Limestone Central School District 2017-2018 Budget
HERE!
See the budget presentations for our schools, professional development, athletics,
and technology HERE!
See the
special education, food services, buildings and grounds, and transportation budget presentation
HERE!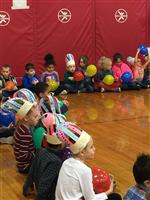 Public Hearing for the ALCS 2017-2018 Budget - Tuesday, May 2, 2017
Proposition #1 - The ALCS 2017-2018 Budget
Proposition #2 - The 2017 Capital Project
School Board Election (2 open seats)
Voter eligibility and voting location:
• Registered voters over the age of 18 who have been residents of the district for at least 30 days are eligible to vote
• All district residents vote in the Allegany-Limestone Middle/High School near the gym *
*Enter the school near the tennis courts. There will be parking available near the door. Follow the road left and to the end.
2017-2018 Budget Vote and Board of Education Election

will take place
from Noon to 9:00 PM
Please remember to take our exit survey after you vote!
as of the April 18, 2017 Board of Education meeting: